Come Shop With Me!


Monday, February 27, 2012
I got the opprotunity to work with Tasha's cute and fun Party Rock kit! Full of bright colors and fun! Only available at
PTE
I also used the work of my fave artist
Lix
! The tube is called "mew"
Click on the pictures to make them bigger and snag!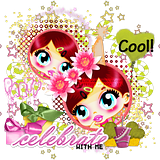 Terms of Use
Please read my complete terms of use for personal and commercial use
HERE

Labels
Wicked Fan Page